H670T is a client DVB-T2 STB incorporates Broadcom's industry-leading advanced chip BCM7218X to support a 4K×2Kp60 with unique multi stream concurrent picture-in-picture (PIP). H670T incorporates Broadcom's industry-leading advanced programmable luminance mapping (PLM) system, highest-performance advanced graphics processing, and leading 1-Gbit+ Wi-Fi 6 connectivity for wired and wireless networks.
STB Wi-Fi 6 WLAN subsystem (802.11 MAC/baseband/radio) can operate in both 2.4-GHz and 5-GHz modes, also support Bluetooth 5 on 2X longer range and 4X higher data throughput.
The PLM system allows for seamless and highest video quality SDR-to-HDR and HDR-to-SDR video conversion with the concurrent blending of graphics.
The BCM7218X is the world's first single-chip, Ultra High-Definition TV (UHDTV) SoC with AV1 support and integrated Wi-Fi 6 (IEEE 802.11ax), designed for satellite, cable and IPTV set-top box (STB) applications.
H670T will ready to market by
Mar, 2020.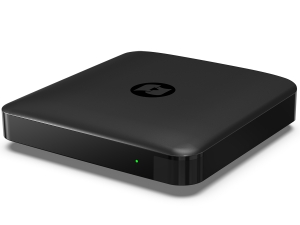 H670 series set-top box is one of the world's first 4K UHD STBs good support AV1 video decoding, Wi-Fi 6 (802.11AX) and Verimatrix Ultra DRM functions.   This STB was designed for telecom, broadcasting and Pay TV operators and ready for volume...
Read more